News
As you may have heard, Canada is adopting VOC limits on consumer products consistent with what is currently in place in California.  The biggest impact will be on Fiebing's Leather Dye and Fiebing's Pro Dye.  Neither of these products will be legal for sale in Canada after January 1, 2024. 
You can see the list of product categories here : https://laws.justice.gc.ca/eng/regulations/SOR-2021-268/page-4.html#docCont.    Item 40 in the table is described as "Footwear or leather care products that are designed to clean or protect footwear or leather articles or maintain, enhance or modify their appearance, durability, fit or flexibility…" The VOC limit for liquid products is 15%.
As you can see on the attached overview, the two main exceptions are:
"These regulations do not apply to products designed to be used solely in manufacturing or processing."  This means that bulk sizes like gallons, 5 gallon pails and 55 gallon drums of Leather Dye and Pro Dye can be sold to manufacturers of leather goods in Canada without issue.
"Products manufactured and imported prior to the coming into effect dates have no limit on sell-through."  We interpret this as any product imported into Canada prior to January 1, 2024, can sell through without a deadline.  Retailers in Canada will not have to pull any product off of the shelves as long as they were received prior to January 1, 2024.  Our dyes are batch coded to indicate date of manufacture if this information is needed to confirm compliance.
Next Steps to Minimize Impact on Sales
For the past few months Fiebing has been working on expanding thier color range of Low VOC Leather Dye and our water based LeatherColors.  These expanded colors will be ready by January 2024.
Additional products that are no longer going to be sold in Canada due to VOC restrictions are:
Fiebing's Deglazer
Fiebing's Dye Reducer
Fiebing's Saddle Lac
In the near future, we will be releasing the list of expanded color ranges for Fiebing's Low VOC Leather Dye and Fiebing's water based LeatherColors. 
In the meantime, you can continue to purchase Fiebing's dyes as usual.
Stay tuned for updates.
This certificate is presented to Zelikovitz Leathers in recognition of your one hundred and thirtieth anniversary.
On behalf of Members of Ottawa City Council, it is my distinct pleasure to extend congratulations to Jamie F. Melamed, President of Zelikovitz Leathers & Crafts in recognition of its 130th Anniversary in business serving the community.
The hard work and dedication of the men and women who have helped build Zelikovitz Leathers for well over a century is an accomplishment that has benefited the community and our province.
To everyone at Zelikovitz Leathers: the fact that you have been in business for 130 years is a testament to your work ethic. You found the formula for success by meeting the needs of your customers and by adapting to a society and economy in constant evolution.
Curbside pickup is now available at our Ottawa location. Simply enter CURBSIDE at checkout in the Discount Code. Make sure to include your phone number so we can schedule a pickup. You can also contact the store with your order number to schedule your pickup.
Finally, our Canadian Customers can pay for online orders in Canadian Funds. Due to limitations in our shopping cart, all online sales were only available in US Funds. Now, thanks to Monaris we are able to accept Canadian Funds. You will notice a currency bubble at the top of every page. You now have the option to pay in either currency.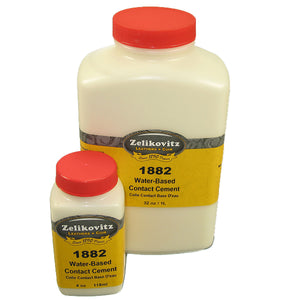 Introducing the brand new Zelikovitz 1882 Water-Based Contact Cement! We've worked with our lab in the United States to produce an Eco-friendly, odor-free alternative to the standard contact cement. This water-based neoprene contact cement may be used on leather, foams, Formicas, Eva's and rubber for combining or laminating. Its tough film strength is excellent for rib attaching, and on synthetic non-porous substrates. 1882 Holds quickly and permanently. It's flexible so leather will not become stiff and brittle. Waterproof and easy to apply. The non-hazardous formula ensures safe shipping anywhere in the world, including California. Available in 4oz and 1L.
Zelikovitz Leathers is pleased to offer our full line of ZeliPRO leathercraft tools. From swivel knives to bevelers, leathercraft stamps and accessories, ZeliPRO tools are the finest quality. We are leathercrafters and know that quality and price are important. That is why we strive to produce the finest quality tools and accessories at reasonable, affordable pricing.